How to Represent Your Car Donation Program on Your Website
Car Donations On Your Website
To create an easy way for your donors to find Vehicle Donations on your website, we suggest that you link them directly to your unique Riteway Car Donations landing page! If you are unfamiliar with what that is, don't worry, we will catch you up to speed....
RECAP:
1. What is a Landing/or Donation page? The provided link gives your donors access to your nonprofit's UNIQUE landing page! When donors submit an online donation directly to this page, their information goes straight to our database and is specified as a vehicle to benefit your nonprofit. This page can also be customized and transformed into an SEO marketing platform. It works like an online ad, and brings donors to your specific page by utilizing keywords and key phrases! (Just ask us, and considerate done!)
To Get Your Landing Page Link:
MADE EASY- Please call or email me, and I will send you your charity's links 855-369-1100 or lauren@ritewaydonations.org
2. What is a Banner ad/ link to your landing page? Please use the banner link to create a eye-cathcing Banner Ad, that when clicked, takes the donor to your landing page. This is also a great feature for enewsletters, emails, and your website! I have included the instructions on how to create a banner ad in the attachment. Please, include a small description of how vehicle donations work for and benefit your organization next to the banner ad. We can give you examples if you need them.

To Get your Banner Ad Link:
Please follow these 3 Simple Steps To Update Your Website OR Use our Template
DIRECTIONS:
Step 1: Banner Ad Placement
Be sure to put it somewhere the donor can see it (ie. don't put it on the bottom of the page, or in a margin- put it at the top of the page or in the center)

Step 2: Bold Label and Brief Description
People will donate if the process seems easy and if they know what to expect. We recommend that you please include a small section labeled Vehicle Donations to (Your Nonprofit Name) MAKE THIS BOLD. While this label is up to your discretion, just be sure to make it simple and straight to the point. The description should be about:
Our partnership
How to donate (by calling our phone number/ or filling out a donation form online) setting up an account and scheduling a pick up)
What they can donate: cars, trucks, vans, RVs, motorcycles, golf carts, boats, heavy equipment etc.
Please add our phone number directly in this section! 888-250-4490.
Step 3: Personal Touch
Also add a picture, or a positive anecdote that paints a picture of how these donations really do help your organization. (Here is an Example from one of our animal rescues: "Thanks to our partnership with Riteway Car Donations, we are able to pay our electric bill each month, and our animals always have food in their bowls and bellies. Your donation does make a difference."
OR
Standard Car Donation Template:
Donate Your Car to (Charity Name)
Your car donation will go to help us acheive our goals, and make a difference in our community by (add mission statement/ vision/ or how it will help). We have partnered with Riteway Car Donations to make donating your car as easy as 1, 2, 3! And your donation is 100% Tax Deductible!
We gladly accept:
-Cars, Trucks, Vans, RVs, Golf Carts, Motorcycles, Heavy Duty Equiptment, Classic Cars, Busses, Trams, Boats, even Airplanes!
-Riteway accepts most vehicles....running or not! *
-Call right now to find out more! 888-250-4490
How To Donate: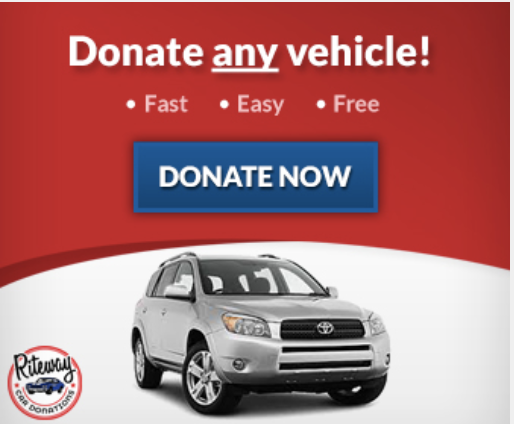 Step 1: Call 888-250-4490 to speak with a donation coordinator, and complete the process over the phone OR Click the Donate Now button
Step 2: Fill out the Donation Request Form on our Riteway sponsered Donation Page!
Step 3: Schedule a pick up -a donation coordinator will call you to scheudle the pick up and once your car has sold your tax deduction comes in the mail!
For questions, or to find out more about Riteway Car Donations' simple car donation program, please call 888-250-4490.
Riteway Car Donations- 9723 Glenoaks Boulevard, Sun Valley, CA 91352
*While we accept most donations, very few will not qualify for our program. We do apologize for this inconvenience, but we are limited by market trends and economic shifts. Luckily, we offer many other ways to support our cause! Thank you for your understanding and continued generosity.
How to create a "Donate ANY Vehicle" button (or banner) on your website to specifically drive car donations for your organization
A. Paste the custom URL we provide to you, into your internet browser.
The URL we give you looks something like this: http://www.ritewaycardonations.org/partners?charity=416 It will call up the following image: Choose which button / banner you wish to show on your website.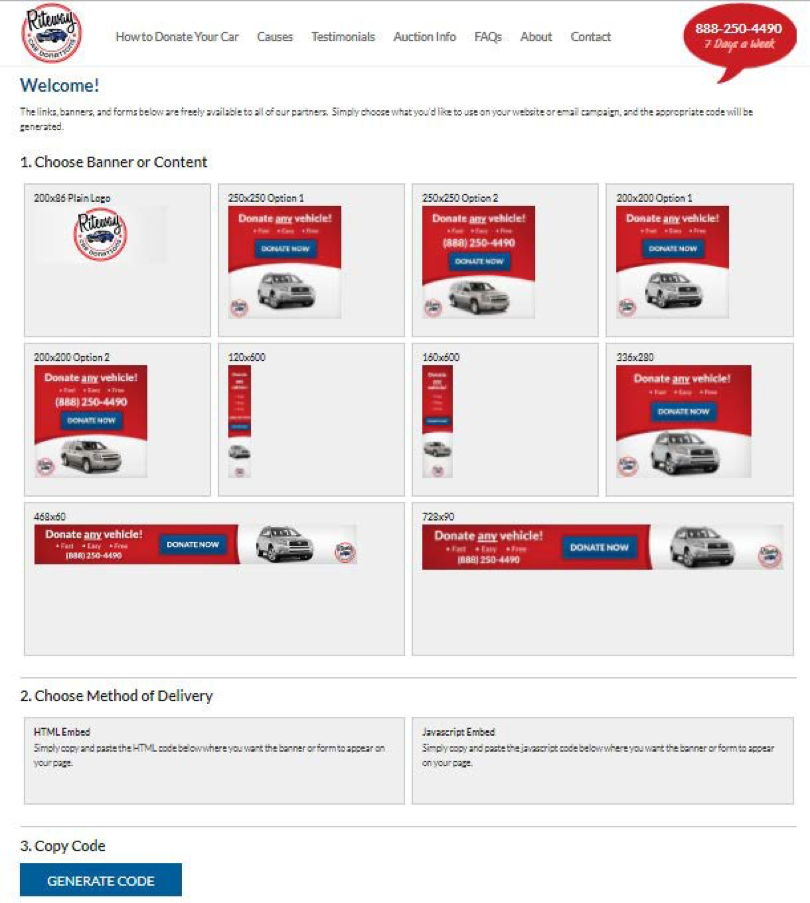 B. Decide WHERE on your website you wish to show the icon you selected.
For best results: best practice is to show the button (or a link) in multiple areas, such as:
1. Home page, if possible (or at least have some link from your the homepage)
2. A separate page and menu-listing under your "Donate" or "Support Us"Menu
3. On any page where you mention the variety of ways donors can support your organization

Simply Paste the HTML or Java code generated above into that location, and voila … see the "click-able" button or banner appear!
• What happens when a visitor clicks that button?
They will see a new page (like the one below), customized with YOUR name at the top.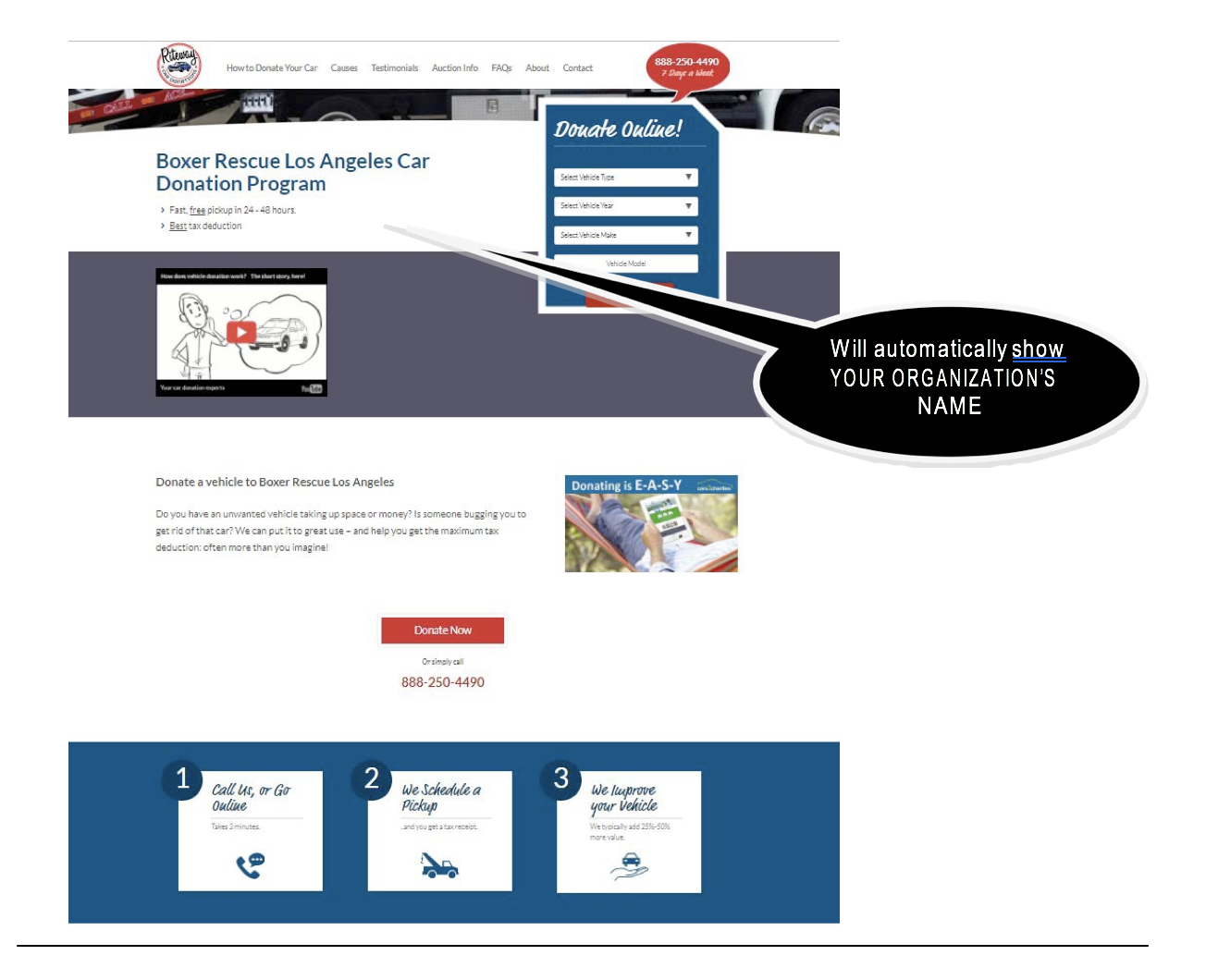 Below is a sample of what your donors will see when they click on the button to "Donate Any Vehicle", on your website:
Questions about loading this banner?
Call 855-369-1100 or email lauren@ritewaydonations.org